The first we see of Mel Gibson in Blood Father, his first proper vehicle since 2011's The Beaver, is in extreme closeup – and it's not flattering. His skin seems to have taken a proper beating following his well-publicised bout with drug and alcohol addiction. The deep set wrinkles that line his forehead look like battle scars, making him appear significantly older than his 60 years.
In allowing director Jean-François Richet (Assault on Precinct 13) to stage such an introduction, Gibson seems to be inviting scrutiny. Over the course of Blood Father, he demands it by digging deep to play a recovering alcoholic prone to dangerous temper flares. When his character, John Link, says to his daughter late in the film, "I'm sorry – I made mistakes and you suffered," Gibson might as well be directly addressing his fans.
As comeback projects go, Blood Father is stellar. It's a wonder Quentin Tarantino, the king of career resurrection, didn't get to Gibson first. The actor completely tears into the role of Link, a battered and disgruntled ex-con. Richet matches him, delivering a muscular and deliriously entertaining B-movie that is sure to play like gangbusters with genre aficionados.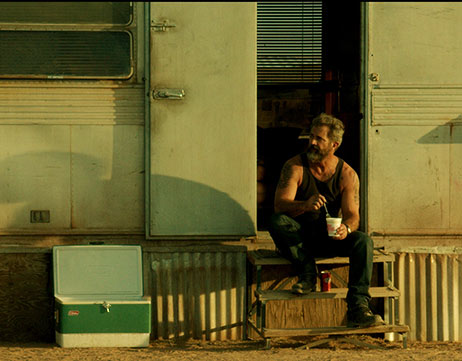 At the outset of Blood Father, Link operates a makeshift tattoo parlor out of his trailer home in the middle of the California desert. Life is simple for Link. When not sweet-talking customers, he spends his days joking with his best friend and AA sponsor Kirby (William H Macy). That tranquility is disrupted by the surprise arrival of his estranged 16-year-old daughter Lydia (the excellent Erin Moriarty), on the run from the Mexican drug lords after shooting her wannabe kingpin boyfriend, Jonah (Diego Luna). When the cartel comes a-knocking, wanting Lydia dead, Link unleashes all hell, evading his parole to keep his daughter alive.
Blood Father recalls the thrillers Robert Rodriguez used to make: it's loud, outrageously violent, unabashedly pulpy, and doesn't skimp on character development. As the body count escalates, so do the stakes for Link and Lydia.
Vitally, it's also a lot of fun. "This shit's a party to a dirt bag like me," says Link, while on the run, aptly summing up the tone Richet sets.
But Blood Father wouldn't work were it not for Gibson. In his personal life, his rage has publicly manifested in horribly offensive ways. As an actor, Gibson is at his best when he taps into it. Watching Blood Father, you can sense he's hungry – eager to reclaim his status as a go for broke talent. It's unlikely audiences will bite. Still, he makes a hell of a show.
Source: The guardian.com