Summer is back, and so is Ciné Sous Les Étoiles, with its new venue at Ebène Recreational Park, in Beau-Bassin/Rose-Hill, perfectly situated in the center of the island, easily accessible by metro and car, offering the perfect setting for an open-air cinema night.
Experience cinema differently with Ciné Sous Les Étoiles
When it comes to watching movies, it's not how or when that matters. It's the quality of the time spent. That's why Ciné Sous Les Étoiles invites you to enjoy its open-air cinema in the amphitheater of Ebène Recreational Park, a place like no other.
It is an extremely pleasing experience to live with your special one, family, or friends. Feel the excitement of being at the cinema while enjoying the perks of being outdoors.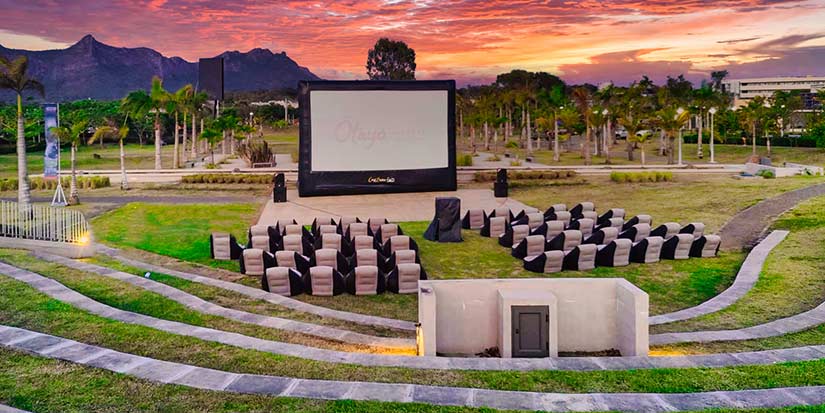 The concept
Outdoor cinema is above all a special atmosphere, talking to your neighbors without disturbing everyone around you, enjoying the night sky above you, the wind blowing, and the freedom to move around, play, eat and drink during the movie. Generally, the atmosphere is festive, friendly, and relaxed. Ideal for a summer outing with family, friends, or even lovers!
Certainly, you will have a wonderful time in an ambient setting surrounded by natural decor allowing the magic of the night to sway you into a movie universe. Have your feet in the grass, sit comfortably or make yourself comfortable on a comfy plush sofa and enjoy an awesome movie outdoors and under the stars.
Ciné Sous Les Étoiles' open-air theater offers a colorful array of movies: action-packed Hollywood blockbusters, Bollywood, critically acclaimed movies, comedy, thriller, horror, and even cartoons. Come enjoy the pleasures of the open-air cinema in a cosy place and in a special atmosphere.
Check out Ciné Sous Les Étoiles movie lineup and screening schedule here: Ciné Sous Les Étoiles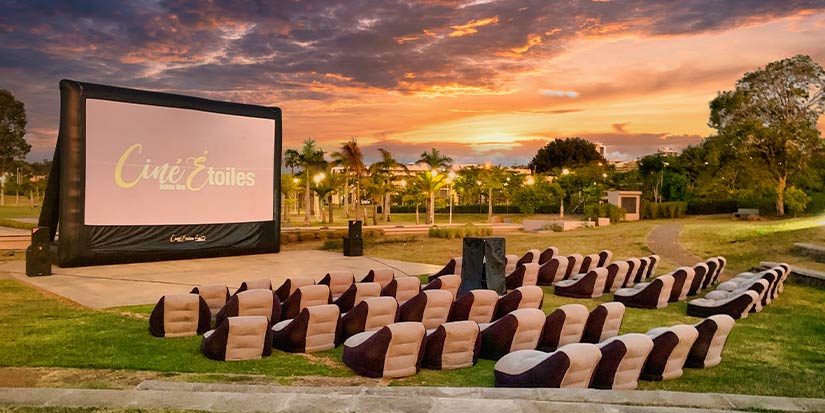 The venue
Ebène Recreational Park, situated in Beau-Bassin/RoseHill, is designed to provide modern recreational facilities, this sustainable park has approximately 62,000 plants, 600 exotic trees, 1550 endemic trees, 240 large palm trees, and 12,600 m2 of grass.
This space is unique in Mauritius with modern infrastructure including a health track surrounded by endemic plants, an open-air amphitheater, an esplanade, a children's garden with a well-equipped playground, and a beautiful pond that is also used for the irrigation of plants among others. Add to this, the picturesque view of the Moka Mountains.
The perfect venue for an open-air cinema session. Ebène Recreational Park is a well-established meeting place for film lovers and nature. In the Amphitheatre of Ebène Recreational Park, relax as soon as night falls with the screenings of the open-air cinema.
The Seating Options
Lay back on a comfy plus sofa surrounded by greenery and a cool night breeze at the open-air cinema at Ebène Recreational Park. Ciné Sous Les Étoiles offers different seating options to accommodate your preference. 2 types of tickets can be purchased: Standard and VIP Tickets.
Standard tickets offer seats in the Amphitheatre tiers, just behind the VIP zone. The Vip tickets offer a comfortable luxury individual sofa in the front Centre Seating. The Prime Seat Location!
Since the weather can get quite chilly in the evening, you can bring along a cardigan, jacket, sweater, blanket, or anything to keep you warm.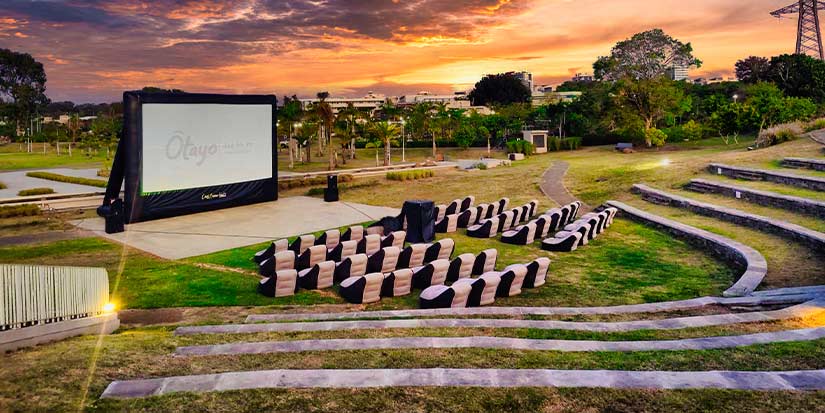 Delight your taste buds
At Ciné Sous Les Étoiles at Ebène Recreational Park, you can feast while you enjoy your movie! Stalls with your favorite street foods will be available on site: Sandwiches, burgers, fries, and, other dishes and snacks. This will change you from the eternal popcorn of dark rooms!
You like the outdoors and, depending on the season, you can enjoy the cool summer nights or enjoy a blanket and hot drinks to keep you warm. The whole family can be accommodated as they wish without being limited to one row of seats. This is why Ciné Sous Les Étoiles is so special.
Book your tickets – Easy, Fast, Secure
You can buy your cinema tickets directly online through the Cine Sous Les Étoiles website or directly over the phone through our support hotline (466 9999).
For online bookings on the Cinesouslesetoiles.mu website, simply select "Book Now" on your preferred screening from the Movie Schedule, and select the ticket category and the number of tickets before proceeding to checkout.
Please note that for all online tickets you can pay through Credit Card, MCB Juice, or a Bank Transfer.
If a screening is sold out, subscribe to our newsletter and follow us on social media so that you'll be the first to know about any further ticket releases to sold-out shows, as well as future events you can attend instead.
Your Own Private Cinema
Get the full VIP treatment by having your own private cinema with Ciné Sous Les Étoiles!
Ciné Sous Les Étoiles offers you to host your private event at Ebène Recreational Park and let your guests marvel at the whole setting. What better way to bond with those who matter than around a good movie under a sky sprinkled with stars?
Your corporate event at Ciné Sous Les Étoiles will be a hit and leave your guests mesmerized. With a private screening of your favorite movie and a team dedicated to creating a lasting impression on your guests, your event will be a memorable one! The team will take care of everything from the seating arrangement, and the decor to the sound and lighting. All you need to do is sit down, relax and enjoy the movie!