When India's top batsman goes missing in the Middle East, two cops with absolutely different personalities team to lead the manhunt to find both the missing cricketer and the mysterious captor in 36 hours. Featuring John Abraham, Varun Dhawan, and Jacqueline Fernandez, Dishoom offers you a sleek, seductive, and action-comedy entertainment.
Directed by Rohit Dhawan, Dishoom is a buddy cop film genres inspired by movies such as Stray Dog  by Japanese film maker Akira Kurusawa in 1949. The young director made his directional debut with the film Desi Boyz which was very much appreciated by the audience. And now he is more confident than ever with the release of Dishoom that has not only got good numbers in the first weekend but also garnered appreciation from critics. As per blogger/critic Komal Nahta: ''Rohit Dhawan and Tushar Hiranandani have written a story that engages the viewers right from the word go''
Produced by Nadiadwala Grandson Entertainment, Dishoom rang up 37.32 crore (5.6 million USD) in India, slightly less than the opening weekend of Shraddha Kapoor and Tiger Shroff's Baaghi but the sixth biggest of the year so far.
---
The Plot
DISHOOM starts off with a well-planned kidnapping of Indian cricket team's ace cricketer Vi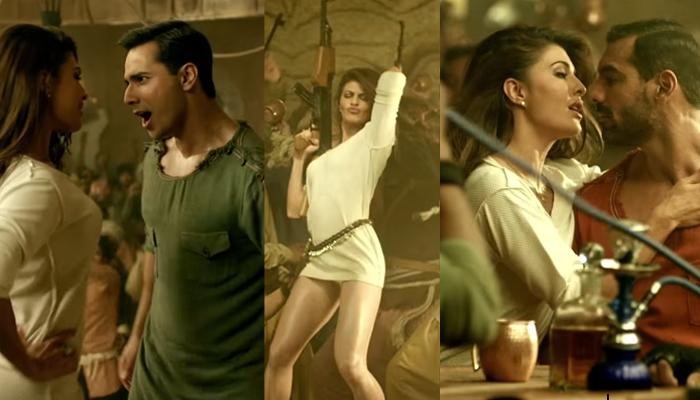 raj Sharma (Saqib Salim) by the dreaded Altaf (Rahul Dev), at the behest of Wagah (Akshaye Khanna) during a cricket series in the Middle East. The reason for Wagah to kidnap Viraj Sharma is to bail himself out of the Rs. 400 crore worth of debts that he has got himself into because of his match fixing deals going south.
When the Indian government gets to know that Viraj Sharma has been kidnapped and that too, just 36 hours before the crucial and the much awaited India-Pakistan match, they decide to put their best police officer Kabir Shergill (John Abraham) on the job. Fearing national unrest and tension, they instruct Kabir Shergill not to utter a word to anyone about Viraj Sharma's kidnapping.
When the news reaches the embassy of the Middle East, they immediately become ready to offer all kind of possible help to Kabir Shergill. That's when Kabir Shergill chooses the 'never-solved-any-case' police officer Junaid (Varun Dhawan), who is only way too happy to be chosen for the task of finding Viraj Sharma.
The boys have comely female company in the shape of the two gals, Jacqueline Fernandez and Nargis Fakhri, the former with a few speaking scenes and an item number where she cavorts in the midst of leering men, and the latter who's around for purely decorative purposes.
What happens after that are a series of twists and turns, oodles of roller coaster ride and adventure tales of Kabir and Junaid and their partner in crime Ishika (Jacqueline Fernandez) who is a petty thief. Will Kabir Shergill be able to trace out Viraj Sharma before the India-Pakistan match, what role does Junaid play in tracing of Viraj Sharma and whose side is Ishika on and will she be of any help towards solving the mystery behind the kidnapping of India's key player is what forms the rest of the film.
According to reviews, the story may not boast of novelty but it has so many twists and turns and so many interesting characters (played by well-known actors) that it doesn't give the audience time to think. The first half is light-hearted and has a lot of humour. The duo's screenplay is pretty engaging and extremely fast-paced. Several cinematic liberties have been taken, which make everything appear so simple for Kabir and Junaid to achieve!
But in an action-driven thriller, one doesn't mind such liberties provided one doesn't get time to think – and that's what this drama does, it simply does not give the audiences any chance to let their minds wander.
Overall, there is action, comedy, drama, a hint of romance, chase and music – all ingredients to cater to masses, families and classes. Emotions may be lacking but that's not a major roadblock. Another good point of the screenplay is the manner in which some interesting stand-alone tracks have been incorporated in the drama like, for instance, the track of Sameer Gazi (Akshay Kumar), the track of Khabri Chacha (Vijay Raaz), the track of Qureshi (Satish Kaushik; only voice), the track of Samaira (Nargis Fakhri) and the track of Muskaan (Parineeti Chopra). These are excellent add-ons.
---
Cast
John Abraham as Kabir Shergill
Varun Dhawan as Junaid Ansari
Jacqueline Fernandez as Ishika
Akshaye Khanna as Rahul (Wagah)
Saqib Saleem as Viraj Sharma
Akshay Kumar (Cameo)
Nargis Fakhri (Cameo)
Parineeti Chopra as Muskaan (Special appearance in song "Janeman Aah")