It's been ten years already since Blue Sky Studios released the furry prehistoric heroes Manny, Sid, Diego and Scrat. Every time a new Ice Age sequel comes out we go and watch it because we love Sid's lateral lisp, Manny's paternal care and Diego's resentfulness. And of course, we are fond of the guaranteed happy endings.
In spite of the many critics' requests to call it a day, Ice Age keeps returning funny, cute and full of romance. On one hand we have a falling in love Sid and on the other, Manny who is worried about his daughter's impending marriage to someone he doesn't like much.
"We want to tell a heartfelt story always, we want the audience to have fun, laugh, and smile but at the same time there is a family message we always want to establish. In this case Manny is having a hard time letting go of his daughter as she is about to get married to Julian. Tugging at hearts and to feel emotional at the end is important."- Co-director Galen T. Chu 
The Plot
For the fifth time in his fictional existence Scrat starts an epic pursuit of his elusive acorn that catapults him outside of Earth. In a series of unfortunate events, Scrat splits an asteroid, pulls the moon and hits another planet, eventually causing an electric storm.
On Earth, Manny, Diego and Sid along with the rest of the herd have to leave their home and escape to safety. The three friends set off on an adventurous journey that has it all: thrills and spills, highs and lows, laughter and menace. They are crossing new lands and meeting a bunch of compelling characters. Join them in this heroic odyssey to rebut an approaching meteor shower that is about to destroy the world.
The people behind the voices of the main characters
The Colombian born actor John Leguizamo is Sid's voice (and soul), and five movies after, we cannot imagine what would have Sid been without Leguizamo (and quite the opposite). "I watched some documentaries on sloths because I just couldn't find the voice.  I learned that they ate food and stored it in their cheek pouches and it fermented and they would get drunk and fall out of trees. So I started walking around with a sandwich in my cheeks and all of a sudden this voice just came out and I was like (in perfect Sid speech) "Oh my god this has to be the voice." I called the Director and I said "Chris, guess who this is." He said "Who is it?" "It's Sid, Sid the sloth, I found myself!"- John Leguizamo
Manny's voice comes out of Ray Romano, also known for the TV series Men of a Certain Age and the freshly released Vinyl drama series. For each Ice Age movie, an actor has 15 individual recording sessions, which means that the actors don't get the chance to be in the studio at the same time.
"It is always amazing to me when I see the final film how it appears as if we're really interacting, arguing with each other; it is as though the other actors are standing right next to me. It is amazing how we're laughing with each other." – Ray Romano
Diego, the saber-toothed tiger with a sarcastic but definitely not malicious personality, is enlivened by the actor, producer and writer Denis Leary. He has jokingly said that he in his first Ice Age contract he put down: "If ever Diego had a girlfriend, it had to be Jennifer Lopez".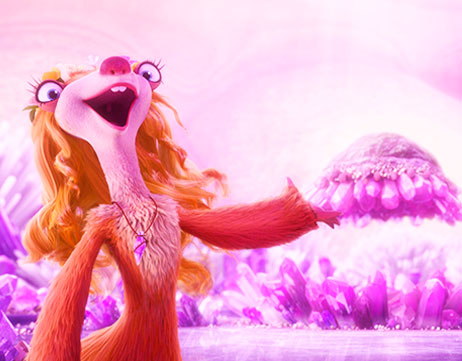 Background Information
An incredible team of 550 dedicated artists has concurrently worked for three years before Ice Age: Collision Course premiered at the Sydney Film Festival on June 19. The movie was released in the United States in July by 20th Century Fox in both 2D and 3D, and has grossed $317 million worldwide.
Our Favorite Trivia
The end credits are alongside drawings made by the children of the Blue Sky Studios employees, reminding us that Ice Age is first and foremost meant for children.
To sum up
Ice Age's long lasted success stands on the fact that its characters — mammals from thousands of years ago — all have something that relates to us human beings. In each extended family — no matter wherever in the world — there's a funny Sid or an overprotective Manny. Every Ice Age movie focuses on several values that successfully passes across again and again: togetherness, family and loyalty.