Well-armed and bulging at the biceps, action movies often get a bad rap. Sure, they prioritize brawn over brains, but the best ones speak to something primal about our attachment to cinema. An action movie should thrill, consistently, stringing together a combination of speed, stunts, shock-ya twists, and simple acts of heroism.
Action thriller movie fans, if you are looking for some adrenaline rush action-packed movies then consider this list below:
300 (2006)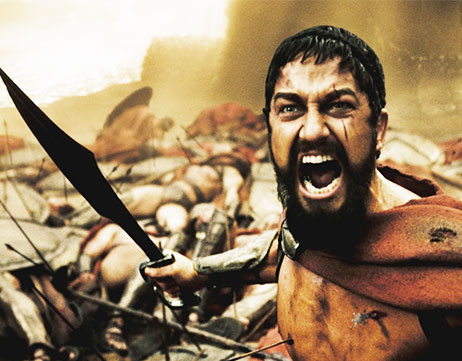 Directed by: Zack Snyder
Starring: Gerard Butler, Lena Headey, Dominick West, Rodrigo Santoro
Released by: Warner Bros.
Run Time: 117 min.
Genre: Action, Drama, Fantasy
Director and co-writer Zack Snyder leaps full-bore into this oft-told tale of 300 Spartans.
Based on the graphic novel by Frank Miller and Lynn Varley — and starring a super buff Gerard Butler as Leonidas, the king of ancient Sparta — "300" is a hypnotic powerhouse of ultra violent action scenes, gushing blood, bulging muscles and a hyper-realistic comic book look that makes the movie pop off the screen. Director Zack Snyder ("Dawn of the Dead") has created a gory spectacle of pride, machismo, courage and brutality that could have ended up a cheesefest, but it is so visually striking that you won't forget it long after the credits roll.
The Bourne Ultimatum (2007)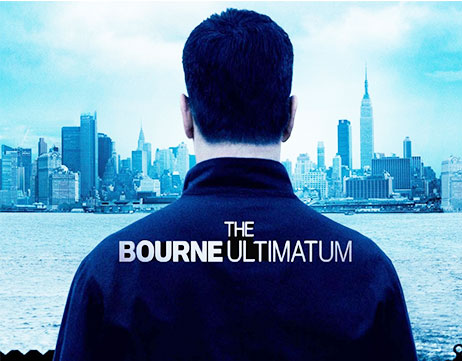 Directed by: Paul Greengrass
Starring: Matt Damon, Edgar Ramírez, Joan Allen
Released by: Universal Pictures
Run Time: 115 min.
Genre: Action, Mystery, Thriller
Director Paul Greengrass' second Bourne movie and the third in the series based on Robert Ludlum novels. 
The exploits of former CIA agent extraordinaire Jason Bourne reached dramatic new heights in this satisfying conclusion to the hugely successful Bourne trilogy (we'll say nothing of the 2012 attempt to reboot the franchise sans Matt Damon). The titular character continues his search into the murky depths of his own amnesia-obscured past as he fends off corrupt government officials and would-be assassins left and right. We can hardly keep up with the frenetic pace of this movie (as well as the camerawork) as it chases Jason from exotic locale to exotic locale. Along the way, we're finally exposed to just who this Jason Bourne guy really is — beware, though, the skeletons in his closet are a little more numerous than most.
The Dark Knight (2008)
Directed by: Christopher Nolan
Starring: Christian Bale, Heath Ledger, Aaron Eckhart
Released by: Warner Bros.
Run Time: 152 min.
Genre: Action, Adventure, Drama, Crime
Christopher Nolan directs the second installment of the reinvented Batman franchise.
With Christian Bale filling the winged suit of a starker and more complex hero, the Batman movie franchise has transcended the borderline campiness of its '80s and '90s releases. Following 2005's "Batman Begins," "The Dark Knight" takes Batman down a sinister nosedive into the depths of Gotham City's darkest corridors, through which a riveting car-chase sequence is played out. The film's action is intelligent and thoughtful, a haunting choreography of thrills and chills. Heath Ledger's unforgettable portrayal of the Joker imbues the film with an eerie depth (and awarded the late actor with an Oscar). "The Dark Knight" is a smartly paced adventure that not only satisfies hardcore comic fans, but also those of us who simply appreciate a good story.
Furious 7 (2015)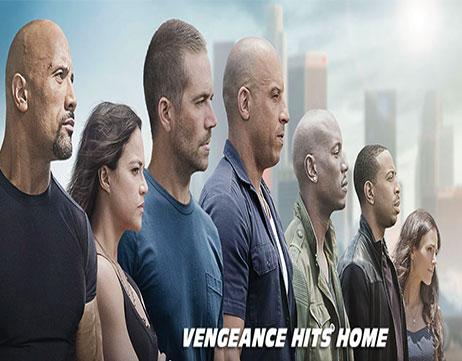 Directed by: James Wan
Starring: Vin Diesel, Paul Walker, Dwayne Johnson
Released by: Universal Pictures
Run Time: 137 min.
Genre: Action, Crime, Thriller
James Wan's Furious 7 will have you at the edge of your seat for the entire duration of the film. 
The latest installment in the "Fast & Furious" series, "Furious 7" embarks on a high-speed adventure through the streets of Tokyo, Abu Dhabi and Los Angeles as Vin Diesel and crew face off against an alliance of international terrorists. The film also marks the final onscreen appearance of action genre mainstay Paul Walker, who tragically passed away during the production of the movie.
Inception (2010)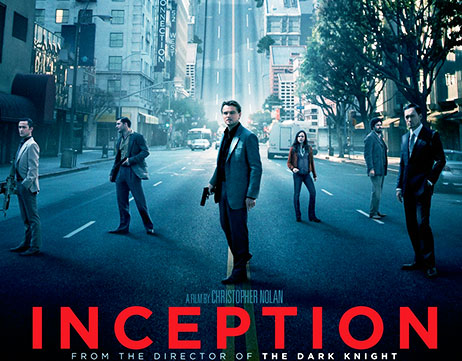 Directed by: Christopher Nolan
Starring: Leonardo DiCaprio, Joseph Gordon-Levitt, Ellen Page
Released by: Warner Bros.
Run Time: 148 min.
Genre: Action, Adventure, Sci-Fi
Christopher Nolan's visually astonishing and intellectually challenging, Inception.
"Inception" is an action movie disguised as a psychological thriller. The boldly original feature is both visually and mentally stimulating, with its innovative action sequences and complex plot involving idea inception within the architecture of the dreaming mind. The quadruple-Oscar-winner, including one for visual effects, stars Leonardo DiCaprio, Joseph Gordon-Levitt and Ellen Page leading a team hired to plant an idea in a person's unconscious mind. The corporate espionage tale has everything an action movie should: explosions, gun fights, a tense race against time and, best of all, a zero-gravity fight scene. With two films on GAYOT's Top 10 Action Movies list, "Inception" writer, co-producer and director Christopher Nolan ("The Dark Knight") clearly is a master of the action-thriller genre with a unique style.
Iron Man (2008)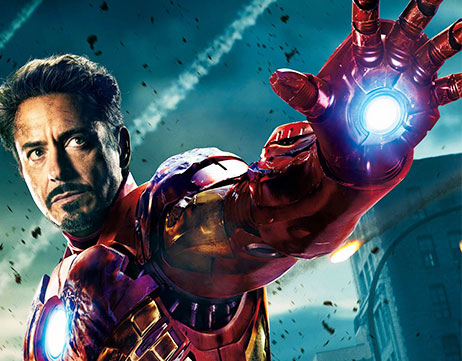 Directed by: Jon Favreau
Starring: Robert Downey Jr., Terrence Howard, Gwyneth Paltrow, Jeff Bridges
Released by: Paramount Pictures
Run Time: 126 min.
Genre: Action, Adventure, Sci-Fi
Robert Downey Jr.'s performance elevates a decent film to a great one in this adaptation of a classic Marvel comic.
During a period where film adaptations of Marvel comics were falling off the deep end, "Iron Man" came as such a pleasant surprise. The storyline is not unlike that of a certain caped crusader — billionaire industrialist Tony Stark is orphaned at a young age and takes up the superhero mantle later in life. Jon Favreau keeps the action and effects as streamlined as the film's pacing, all of which harmoniously pairs with a brisk, witty script to make this one of the rare examples of a popcorn flick done right.
Kill Bill Vol. 1 (2003)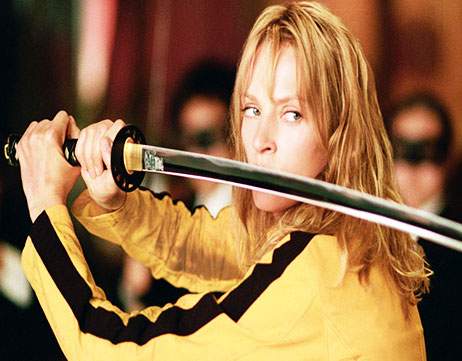 Directed by: Quentin Tarantino
Starring: Uma Thurman, David Carradine, Daryl Hannah
Released by: Miramax
Run Time: 111 min.
Genre: Action
The first volume of Quentin Tarantino's action-packed Kill Bill movies. 
To say this Quentin Tarantino film is action-packed is a huge understatement. The writer-director melds his inimitable style to the best from the tradition of martial arts films and throws in his typical cooler-than-thou dialogue, and quirky, idiosyncratic characters. The result is a whirlwind of insane violence that never lets up. It's a revenge story, in which a pregnant Uma Thurman, coldly left for dead by a brutal gang on her wedding day, comes back to mercilessly wield her lethal sword on the perpetrators. Vol. 2 takes a "gentler," more psychological approach, leading to the denouement of the complex story.
The Matrix (1999)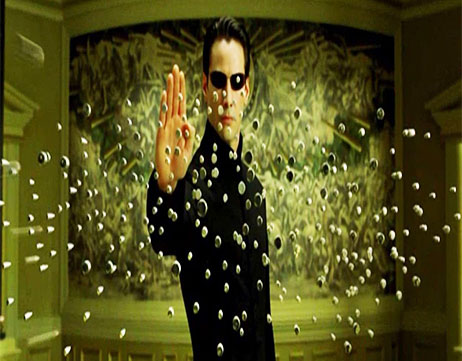 Directed by: The Wachowski Brothers
Starring: Keanu Reeves, Laurence Fishburne, Carrie-Anne Moss
Released by: Warner Bros.
Run Time: 136 min.
Genre: Action, Sci-Fi
Delve into this action-packed classic, directed by The Wachowski Brothers. 
Almost since computers were invented, Hollywood films have portrayed a future where machines enslave humans. No film delivers that concept in a more mind-bending, adrenaline-pumping package than "The Matrix." The Oscar-winning film follows hacker Neo (Keanu Reeves), who discovers that the world he knows is actually a machine-run computer program, and that he is destined to free humanity from its grasp. With help from his mentor, Morpheus (Laurence Fishburne), Neo learns that he can manipulate the matrix to perform amazing physical feats. Luckily for audiences, the battle is still not easily won, so the film comes with a heavy dosage of raining bullets, seemingly unbeatable bad guys, explosions and hand-to-hand combat. While the two sequels to "The Matrix" received mixed reviews, the first installment of the trilogy is a must-see.
Saving Private Ryan (1998)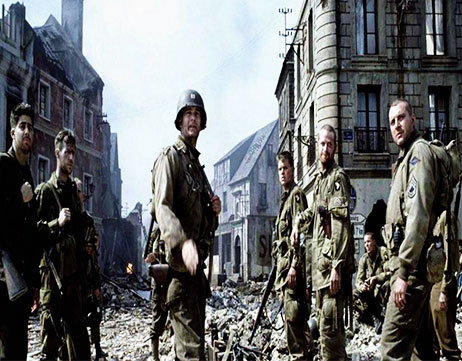 Directed by: Steven Spielberg
Starring: Tom Hanks, Matt Damon, Tom Sizemore
Released by: Paramount Pictures
Run Time: 169 min.
Genre: Action, Drama, War
Revisit World War II with Steven Spielberg's Academy Award-winning film, Saving Private Ryan.
Winner of five Academy Awards, this film is best known for the unflinching intensity of its opening, a brutal depiction of the Allied Forces' D-Day invasion of Normandy, France during World War II. Spielberg's frank examination of war is neither effusively patriotic nor condemning, and its sobering look at the real price of victory makes it one of the most highly regarded war films of our time.
Terminator 2: Judgment Day (1991)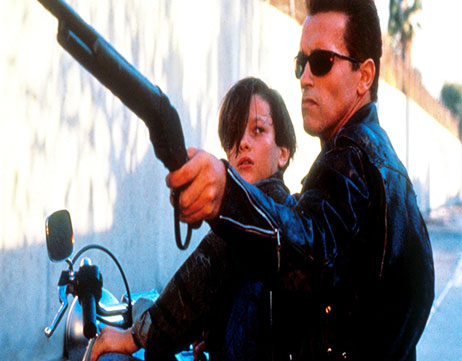 Directed by: James Cameron
Starring: Arnold Schwarzenegger, Linda Hamilton, Edward Furlong
Released by: TriStar Pictures
Run Time: 137 min.
Genre: Action, Sci-Fi
The action-packed sequel to James Cameron's Terminator series. 
Before James Cameron chucked Leo off the Titanic to the strains of a Celine Dion tune, he outfitted the Governator with enough firepower to take down a small country. Packed with nonstop action and wild special effects, the sequel that surpasses Cameron's first futuristic nightmare makes the most of Arnold's pumped-up metallic magnetism.