STORY:
Mohnish/Aadil (Harshvardhan) and Suchitra (Saiyami) are schoolmates, who care deeply for one another. An untoward incident that occurs in their hometown, Jodhpur, separates them. Years later, their paths cross. But this time around, Suchitra is on the verge of getting married.
REVIEW:
Mirzya is inspired by the story of the star-crossed lovers Mirza-Sahiban, a popular folklore from Punjab. In this screen adaptation, the scenario plays out in Rajasthan, shot mesmerizingly by cinematographer, Pawel Dyllus.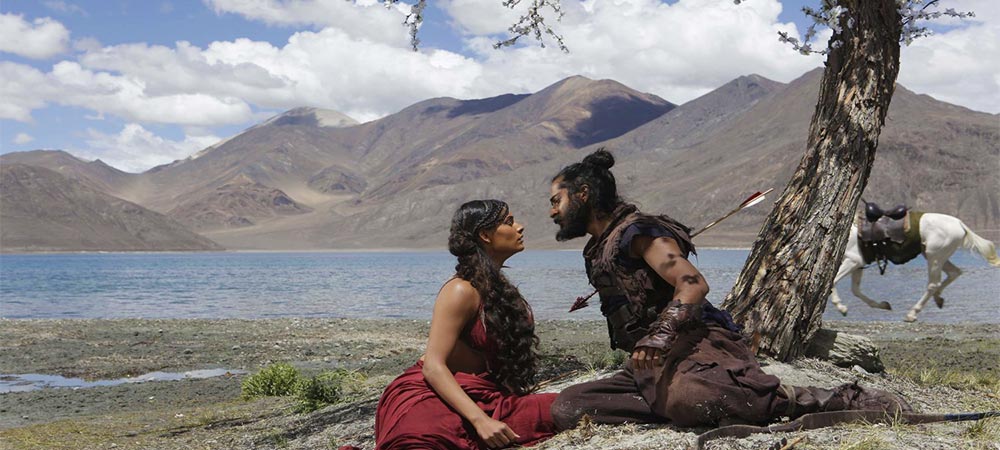 At the core of the story are Mohnish and Suchi, who were separated when the pre-teen boy is sent to a juvenile correction home for murder. Years later, Suchi returns from London to marry Prince Karan (Anuj). By a quirk of fate, she discovers her childhood friend, who now calls himself Aadil, in the palace stable. During her riding lessons, the curly-haired to-be princess discovers that the embers of her love for the stable-hand have not really died down.
On his part, Aadil realises that if he must win his childhood sweetheart over, he has to cross swords with the Prince and Suchi's father (Art Malik), who is hell-bent on her wedlock to royalty. In the hands of the astute Rakeysh Omprakash Mehra (Rang De Basanti, Bhaag Milkha Bhaag), this musical, which has a melodious score by Shankar-Ehsaan-Loy with additional tracks by Daler Mehndi, unfolds languidly in a Broadway-style format. Interspersing the present-day track with a period folklore, Mehra and Gulzar (credited with screenplay and lyrics) give viewers an engaging and lavish big-screen experience.
Though not a musical in the literal sense, the songs take the story forward in ballet style. The visuals of the chorus dancers dressed in bright Rajasthani costumes is breath-taking. The downside, though, is that the passion between the lead players doesn't really set the screen ablaze. Also, there is absence of real conflict and suspense as the folklore is quite known.
Harshvardhan and Saiyami come from good acting stock. But they're still rough around the edges. Harsh manages to give glimpses of his vulnerability and intensity as a performer. And, also his physical strength (the shirtless scene). While Saiyami, who withholds emotions in a few scenes, sparkles, Anuj makes an impressive debut.
If you are drawn to stories that are high on aesthetics with lyrical narratives, Mirzya is a portrait that deserves a long look.
Source: Times of India