Have you thought about your company's end of year party yet? If not, now is the time to start! Why not try something different this year – something that will get your all employees excited to attend?
2019 has been a long year and just like all the long years before us, we always want to make sure that we end the year right. End of year parties are a great way to get together with your team and celebrate the accomplishments of the year. However, most parties aren't that fun and have a reputation of being stale- the same old routine, dinner, drinks and a speech. This year, add a bit of spark and glam to your event and try an outdoor cinema screening.
Ciné sous les Étoiles can help you make it a party to remember.
Private screening at Cine Sous Les Etoiles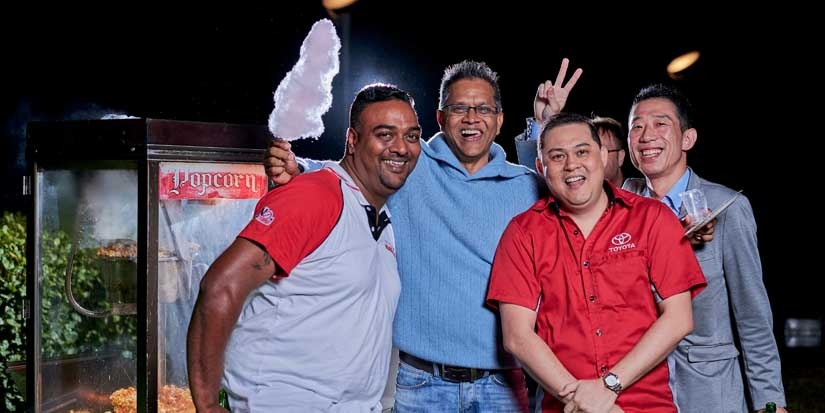 With Ciné sous les Étoiles, your end of year party or event is sure to be an enormous success. You will be able to enjoy all the facilities that Ciné sous les Étoiles has to offer exclusively for you and your guests alone.
Watch the beautiful sunset over the northern skyline and enjoy the mild Mauritian evenings in an outdoor private greenspace of 3500m2. Book the entire venue for your team and watch a movie screening of your choice. To top it off, you can even turn the space into a dance floor for an even more fun after-party!
Zero hassle and zero stress- Ciné sous les Étoiles will take care of everything. From setting up the venue to meet your requirements, to movie licensing and even catering to thematic events- they do it all.
Ciné sous les Étoiles is fully equipped for the occasion with:
Enormous Screen – No matter how many guests, our screens are big enough to be seen from every angle and a long way off. Coupled with crystal-clear image quality, you will enjoy unparalleled views of your favourite movie.
Powerful Sound System – With bass cannon, subwoofer, amplifier and mixer, you can play all your favourite tunes before the movie and also enjoy pitch-perfect sounds during the screening.
Unique Setting– Nestled between fairy-lit trees and a serene natural setting, Ciné Sous Les Étoiles' venue will captivate you. With large green spaces and thematic lights, the venue can be set up according to your wishes
Comfortable Seats – You don't have to worry about uncomfortable picnic mats or benches, since Ciné Sous Les Étoiles offers deluxe, luxury seating including recliners and VIP sofas- catering for up to 200 people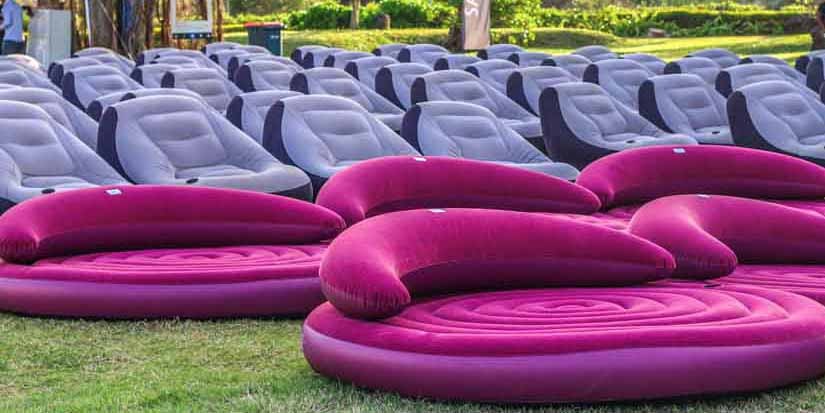 Why Choose Ciné Sous Les Étoiles?
Apart from the exquisite setting, Ciné Sous Les Étoiles goes one step further to make your party one that will be remembered for years. As per your needs, Ciné Sous Les Étoiles can provide:
Hostesses to welcome and cater for your guests
Bar setup on-site, including bar operators
Movie screening of your choice
Catering services
Customised decor according to your party theme. Red carpet along with unique light elements are also available.
Have the entire venue with your branding (posters, signage, entrance banners, etc)
Ciné Sous Les Étoiles will make your company remember and cherish this event. Whatever your industry, company culture or employees backgrounds, an outdoor movie screening is perfect for your end of year corporate party. Spend some quality time with your team and have a memorable end of year party at Ciné Sous Les Étoiles.
Ask your employees to see what they think about it. They will really appreciate that you care about their opinions. Why not check with them what movie they want to watch?
Close your year in style with Ciné Sous Les Étoiles ! 
More info on our website or call us on 466 9999