Ciné Sous Les Étoiles keeps surprising you with new movie viewing experiences! This time we are introducing the first Drive-In Cinema in Mauritius at Domaine de Labourdonnais!
You no longer need to run from the parking area to the screens, you just have to park your car and watch the movie!
Your new Outdoor Cinema Experience
Drive-in movie theatres are making a comeback as a safe outdoor activity to enjoy with your special someone. Give a new meaning to your movie dates with this Drive-In Cinema concept and fall in love harder in this magical setting. Ciné Sous Les Étoiles puts back the magic in romance with a hint of nostalgia. VIP Patrons can take advantage of the front row spots for a majestic viewing experience. Make your special one feel even more special by bringing them to the front row for a VIP experience with special treatment!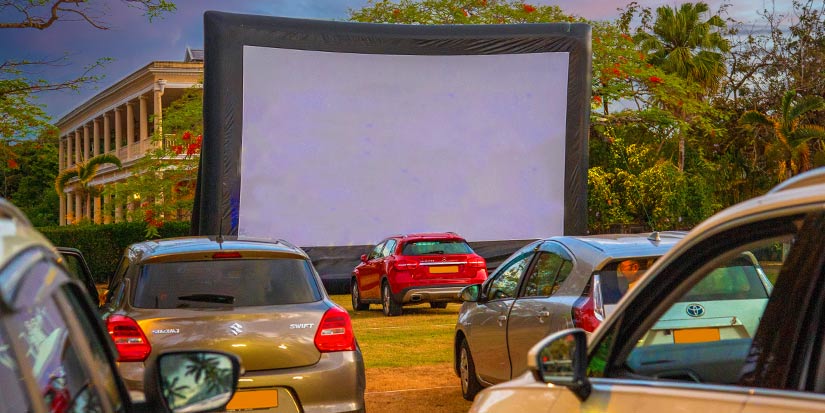 The Venue
In the heart of Domaine de Labourdonnais, Ciné Sous Les Étoiles is offering a unique cinema experience in the north of Mauritius. As night falls, it is converted into the first and only drive-in cinemas in Mauritius.
The charming garden, dim lights, a classic french royal vibe merging with modern Audio-Visual system will get you transported to a parallel world while enjoying your movie.
Picture it before you live it!
Watching a movie in the vicinity of a Chateau is nothing short of extraordinary. Now add to that a GIGANTIC screen! Once you get your ticket checked you will park the car in any spot you like – guided by the staff, and if you hold a VIP ticket you will be parked in the first 2 rows. Wherever you are parked you can be sure to see the screen given its immense size.
The arrangement feels so atypical and yet so unique that you will love it. You will be asked to tune your FM Radio to a specific frequency to hear the sounds directly from your own car, now how amazing is that! The team on-site will ensure everything goes smoothly so don't worry, just holler at them if you are having any issues.
Outdoor Movie Viewing cannot get any better! You just have to book your tickets, head to Domaine de Labourdonnais on the night of your viewing and enjoy a lovely time with your squad. You pay per vehicle and not per person, so that is definitely an activity to enjoy as a group. Your road-trip squad can now enjoy a movie with you in the same car!
Viewing Arrangement
The front rows are reserved for the cars of VIP ticket holders. The rest is on first come, first parking slot given! However, for everyone to enjoy the movie comfortably, larger cars would be asked to be parked at the back row or on the sides.
Otherwise, the only seating arrangement you will worry about is inside your car. Chill, put your feet up, sit crossed-legged, or lay down on the car seat.
Live and Relive Magical Movie Moments
Movies make us laugh, scream, cry and sometimes leave us speechless. There are movies which we never get enough of watching and movies we look forward to watch. In either way, they are emotional experiences we want to share, or experience with some level of comfort. With the new Drive-In Cinema at Domaine de Labourdonnais, movie viewing takes emotions and comfort to a whole new level. The whole concept and setting brings together an intimate moment rich in emotions in a particularly enchanting place, the kind of moment you would love to share with your significant other.
Romance is re-invented under the stars with Ciné Sous Les Étoiles Drive-In Cinema at Domaine de Labourdonnais. Cry with laughter, pull down the car window to gasp for air after an intense scene, feel your heart racing in anticipation with the animated movies on screen and the action movies you grew up with.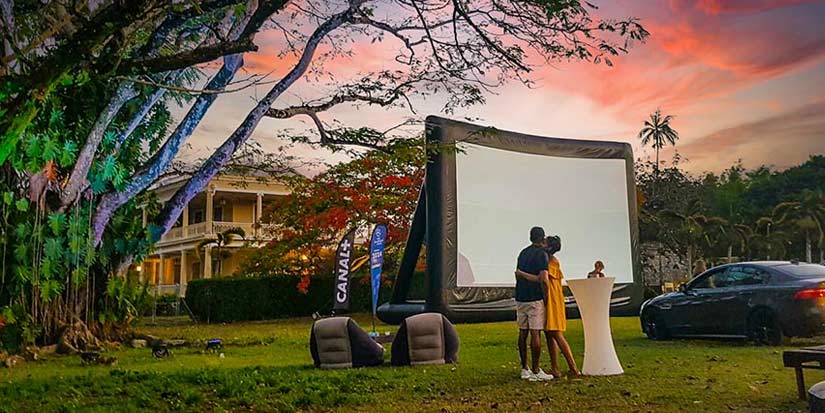 Discover new movies and relive much loved classics next to your partner in the privacy and comfort of your car. At Ciné Sous Les Étoiles, you will not tune your FM radio for love songs, but you will get on that romance frequency and bond over the most epic movies of all time.
We have an exciting lineup of your favourite blockbuster movies – a movie for everyone; from rom-coms to family animated movies you can be sure to find one to suit the mood of your movie night.
Check out Ciné Sous Les Étoiles movie lineup and screening schedule here: Ciné Sous Les Étoiles
Did somebody say FOOD?
What makes a Drive-In Movie Screening so much better? FOOD!
You can save yourself the hassle of looking for food since all drive-in cinema tickets include a Snack Pack to accompany your movie and keep the munchies at bay – before or during the movie screening.
Opt for either the Veg or Non-Veg Snack Pack, each featuring a Sandwich, Pâté (pie), Hakien (Mauritian-style Spring Roll), Wantan and Popcorn of course! Still feeling peckish or need a drink? Then head to the on-site vendors to purchase drinks, snacks and more popcorn. Otherwise you can always bring your own.
Book your tickets in 3 clicks
You can buy tickets directly online through the Cine sous les Etoiles website (Cinesouslesetoiles.mu) or via our ticket partners.
For online bookings on the Cinesouslesetoiles.mu website, simply select 'Book Now' on your preferred screening from the Movie Schedule, select the ticket category and the number of tickets before proceeding to checkout. You can also visit our ticketing partner websites, Otayo.com and Deals.mu to purchase your ticket online. Please note that for all online tickets you can pay through Credit Card, MCB Juice or a Bank Transfer.
If a screening is sold out, subscribe to our newsletter and follow us on social media so that you'll be the first to know about any further ticket releases to sold-out shows, as well as future events you can attend instead.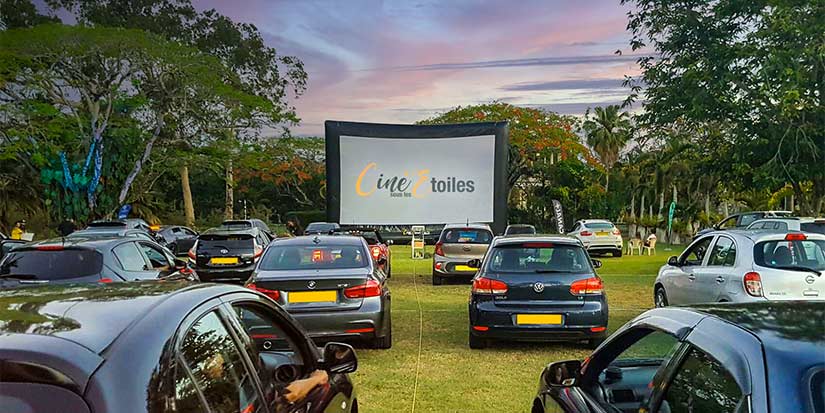 Drive-In Cinema for your Private Event
Your next event will be the talk of the town for quite some time! Host your private event at Ciné Sous Les Étoiles Drive-In Cinema at Domaine de Labourdonnais , and let your guest marvel at the whole setting. What better way to bond with those who matter than around a good movie under a sky sprinkled with stars, in the comfort of your own car.
Your corporate event at Ciné Sous Les Étoiles will be a hit and leave your guests mesmerized. With a private screening of your favourite movie and a team dedicated to creating a lasting impression on your guests, your event will be a memorable one! The team will take care of everything from the decor to the lighting. All you need to do is park your car, tune in your Radio FM for the sound, relax and enjoy the movie!
Be a part of this cinematic game changer and book your tickets here: Drive-In Cinema