Based on a true incident that occurred in 1959 in Bombay, "Rustom" is a fictionalised crime drama that unfurls the tale of a patriotic Naval Commander Rustom Pavri, who kills his wife Cynthia's paramour Vikram Makhija, after stumbling upon their love affair.
---
A real incident based on a cold blooded homicide
As we all know, this film is based on the real-life incident which happened in the life of Nanavati, a Naval officer. Akshay Kumar does the title role of Rustom in this flick.
On one unfortunate day, he realizes that his wife Cyntia Pavri is in love with another guy. This revelation shocks the young Navy officer, and he soon goes to his base, collects a pistol and kills his wife's alleged boyfriend.
After committing the murder, he goes to the police station and surrenders himself. Will court declare Rustom as guilty under section 302, and this forms the major crux of this story.
Being an often heard story as the K.M. Nanavati case versus State of Maharashtra, director Dinu Suresh Desai uses Akshay in the uniform to invoke as much sympathy from the jury on film as his audience off it. He is in his uniform in jail, in court, on his ship, and in his house.
Humour in the film is injected in the dialogues in the court room scenes and offers a small measure of relief in an otherwise drab narrative.
Director Tinu manages to transport his audience to that period in Bombay, by recreating the era with the right hint of sepia tones, coiffured hair, and high waist pants.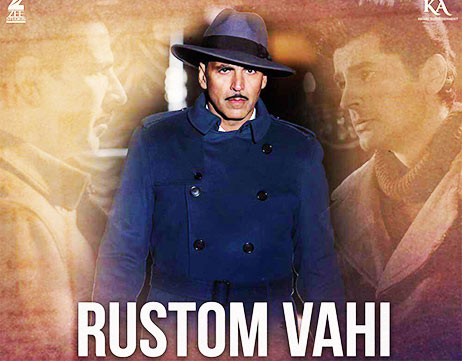 Akshay Kumar slips into the shoes of Rustom Pavri with earnest conviction. He is every inch the patriotic Naval Commander and a husband who is passionately in love with his wife.
With his measured speech, mannerisms and a dignified composure, he nails it in the courtroom scenes.
Ileana D'cruz as Cynthia Pavri, is competent and manages to look the character too. She is full of remorse and feels guilty about her moment of weakness and ably portrays that.
Arjan Bawa as the manipulative and flamboyant Sindhi businessman, Vikram Makhija, essays his role convincingly.
Esha Gupta as Preeti Makhija, Prem Makhija's sister, adds nothing to her character except her constant pout with her red lips and the swagger of a rich, spoilt snob.
Kumud Mishra as Erach Billimoria, the editor of the tabloid, the truth is brilliant and adds the right dose of humour to the film.
Sachin Khedekar as the Public Prosecutor, Kangani, is stereotypical and Pavan Malhotra as the Investigating Officer, Vincent Lobo, delivers a nuanced performance.
Cast:  Akshay Kumar, Ileana D'Cruz, Arjan Bajwa, Esha Gupta, Pawan Raj Malhotra and Kumud Mishra