Ciné sous les Étoiles is the first public, open-air cinema in Mauritius.
Amidst the fairy-lit banyan trees, nature trails and green fields, Ciné sous les Étoiles offers an enchanting backdrop into another world. The concept of the cinema is unlike any other in Mauritius, where a mini-festival ambience can be enjoyed regularly, with fan-favourite movies on-screen and various leisure options on-site.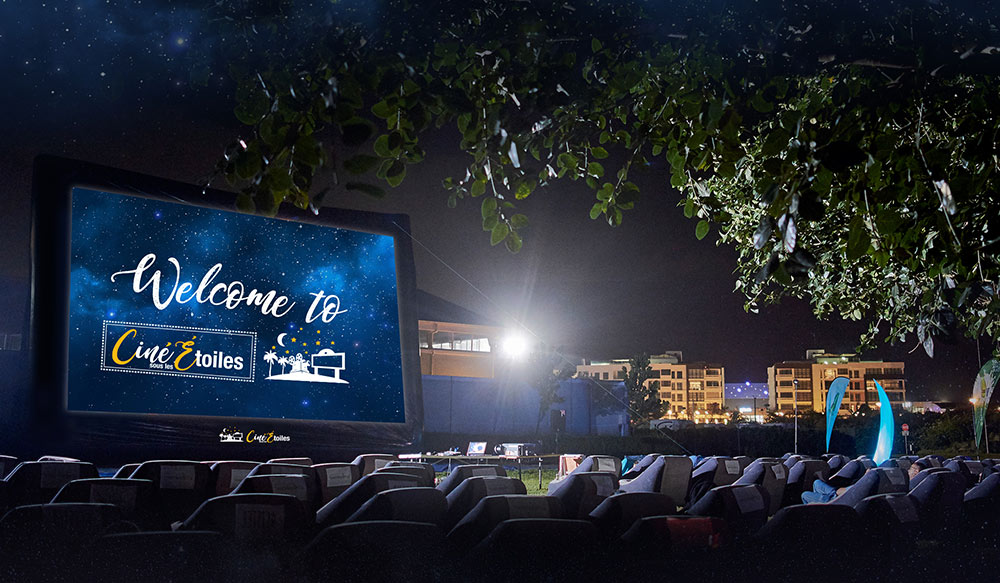 Ideally located in the popular region of Grand Bay, at the Mont Choisy Le Mall, Ciné sous les Étoiles offers a comfortable and convenient setting for a night out. The venue is equipped with all necessary facilities, green spaces and recreational areas, making this location, ideal for any occasion. People of all ages will absolutely love Ciné sous les Étoiles – everyone is welcome, from families, children, couples and groups of friends!
A fantastic viewing experience is guaranteed with state of the art equipment including a huge, wide screen of 10 metres, a powerful sound system and a crystal-clear, HD cinema projector. Paired with a beautifully decorated venue, thematic lighting and décor, this magical setting will transport you away.
Movies For Everyone
There's something for everyone to enjoy at Ciné sous les Étoiles including cult classics, blockbusters and fan-favourites. Movie lovers will be delighted at the wide variety of movies screened at Ciné sous les Étoiles – from animated movies for families with kids, to romantic movies for couples and movies for more mature audiences. Movies that never reach the big screen will also be screened.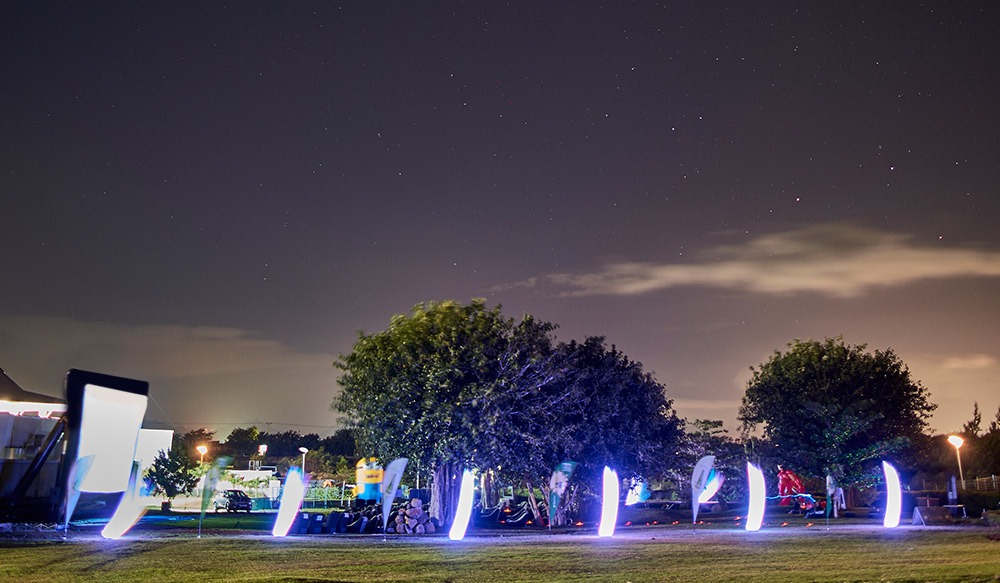 Movies are screened in both English and French (excluding Bollywood movies). If a movie is screened in English, then French subtitles will be available and vice-versa. Bollywood movies will retain its original language and English subtitles will be available.
Maximum Comfort
With a seating capacity of 250 people, Ciné sous les Étoiles offers comfort beyond expectations, offering two premium seating options. The two categories are Deluxe and VIP, where the Deluxe Ticket offers a comfortable single-seater sofa and the VIP Ticket offers a luxurious, single-seater mega lounger with a complimentary popcorn & drink. Since the weather can get quite chilly in the evening, you can bring along a cardigan, jacket, sweater, blanket or anything to keep you warm.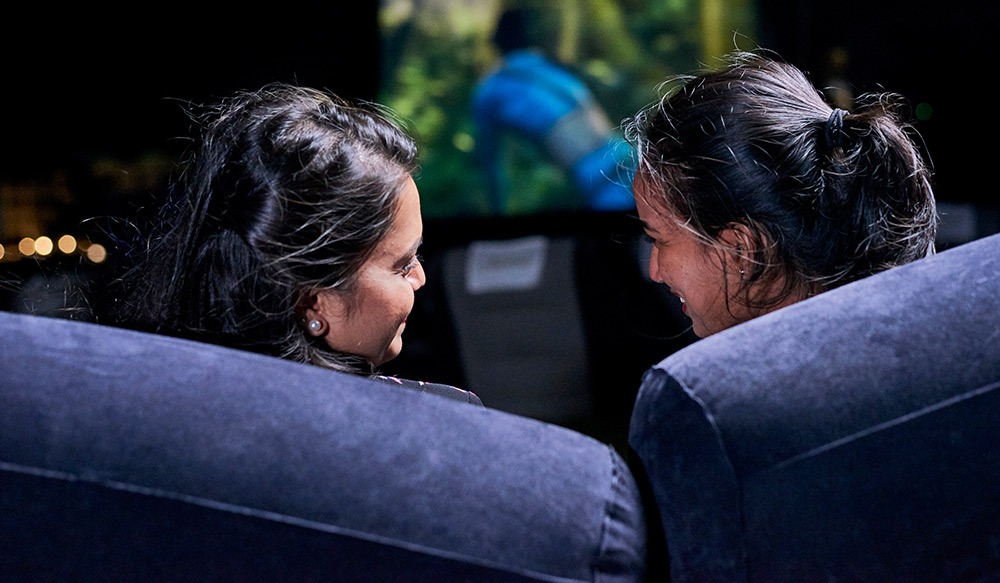 Movie Showtimes
All movies are screened after sunset, so times may vary during the year, but usually the gates open at 17h30 and movie screenings start at 19h00. It is recommended to arrive early, so that you can reserve your seats and can also enjoy our lounge, food and drinks onsite.
Since the cinema is outdoors, you will be exposed to the weather elements so dress accordingly. Like most outdoor events, Ciné sous les Étoiles screens whether rain or shine, please check the weather forecast in advance and be prepared for the Mauritian weather. Screenings will only be cancelled if there is persistent heavy rain or dangerous, unsafe weather.
If a screening is cancelled due to bad weather, it will then be postponed to a new date and the same movie can be watched or another movie screening can be selected.
Facilities On-site
Lounge
A designated area to relax and step away from the movie.
Food & Drink
4 vendors are on-site selling a variety of snacks including popcorn and cotton candy, light meals and beverages.
Licensed Bar
An on-site licensed bar is also on-site, selling a number of alcoholic beverages including, beers, wine and spirits.
Washroom
Clean washrooms facilities are available beside the cinema, as part of the Mont Choisy Le Mall.
Seating
The designated seating area accommodates 250 deluxe and luxury sofas.
Parking
Parking for up to 1000 cars is available.
Food and Drinks
Ciné Sous Les Étoiles has a fully licensed bar and catering at the venue. A lounge and licensed bar will also be present, for viewers to unwind and socialise, whilst still able to view the screen.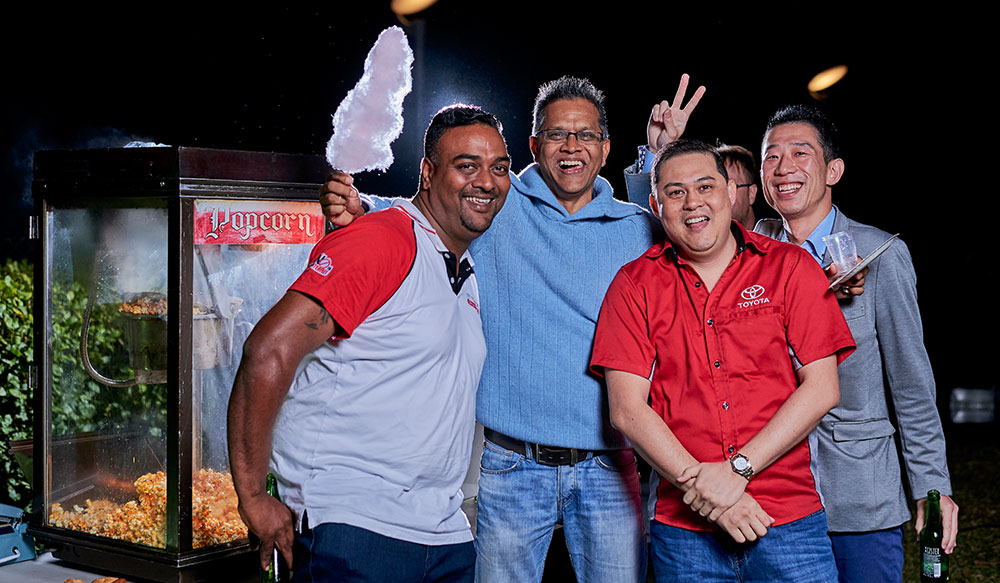 You can purchase a delicious range of snacks, light meals and alcoholic & non-alcoholic drinks. Our four on-site vendors offer:
Popcorn & Cotton Candy
Soft Drinks & Beer
Wines & Spirits
Light Meals & Snacks
Booking your Tickets
Ciné sous les Étoiles offers a number of ticketing and booking options.
You can buy tickets from the website or their ticketing partners, Cinema.mu, Otayo.com and Deals.mu. Simply visit their website to book your tickets. Not so keen on booking online? Then, head on over to any of our Point of Sales, conveniently situated in key locations all around the island. Pay by either cash or credit card and collect your Ciné Sous Les Étoiles ticket on the spot. Ticket prices start as from Rs 250.
Gift vouchers are also available for purchase where you can share the experience by treating your family, friends, loved ones or colleagues with the Ciné Sous Les Étoiles Gift Voucher. Simply select which gift voucher you'd like – we have two type to choose from, the Deluxe or the VIP Gift Voucher.
As a plus point, Ciné sous les Étoiles is also available for group bookings, private events and corporate hire.
Ciné sous les Étoiles on Social Media